Please see the full list of Quest Award Winners below:
Individual Awards
1. Throughout the pandemic this person has been looking after the health and wellbeing of all of us, keeping on top of the ever-changing government guidance, so we could all work as safely as possible and achieve those record-breaking results. Quite simply, we wouldn't have got through the last year without her efforts. This outstanding achievement award goes to Martina Farragher.
2. The next recognition award is going to our best Newcomer. Joining us in the heart of Covid didn't faze this person and they managed to lead their team to a very successful year. Overcoming challenges and turning a negative into a positive with her determined attitude. I have great pleasure to award this to Joanna Brzezinska.
3. The next achievement award goes to a young lady who has been on a tremendous journey since joining Quest, not only did she complete her 3-month PDP, but also generated new business, serviced and managed a new client out of the branches geographical comfort zone. all whilst working in a record-breaking branch. This lady has as can-do attitude and her qualities have brought new strength to the branch and this award goes to Amy Hudson-Jones.
4. The 4th award is goes to an individual that has shown a huge can-do attitude taking on one of the biggest, fastest growing and demanding contracts in the business and is never beaten by anything. A real talent that is always smiling with a great attitude, this award goes to Oksana Wachowska.
5. During the last 12 months this person has come into their own by continually going the extra mile and demonstrating a fantastic attitude. During Q1 & Q2 of 2020 an integral supplier of PPE to protect our key workers and NHS staff landed in Coventry. This person's efforts and support to Oksana hasn't gone a miss. I'd like to announce that this award for recognition goes to Alex Czaicka.
6. The next award is for a real unsung hero that has managed a very large, complicated client week in week out and is consistently in control of their forever changing requirements, making this person a stable asset to her team. This year we would like to show recognition to Kristine Pavlenkova.
7. Our next recipient shows an astute attention to detail and structure, whilst proving to be an invaluable member of the Amazon administration team. His ability to deal with and manage issues is definitely one of his strongest assets and in the early stages of the pandemic in 2020, this recipient along with others showed courage and commitment that ensured a smooth transition when the branch took over the recruitment responsibilities. Our next award goes to Rafal Ciurzynski.
8. To run one Amazon site is a challenge, to run two shows great leadership. Last year in addition to a current site, our next winner oversaw the launch of the new site in a challenging geographical location. Dealing with all that was thrown at her and guiding her team through a very successful peak. This outstanding achievement award goes to Teodora Toleva.
9. The world changed in 2020, particularly for one key client. This person stepped up taking on more responsibility, always willing to help others, a superb team player and once again went the extra mile. He consistently received glowing feedback from Amazon for managing certain projects. I'd like to announce that this award for recognition goes to Adrian Valeriu.
10. We now come to our penultimate award and this outstanding achievement award goes to an individual who is a record breaker in their own right and last year was no different. Whilst dealing with the pressures of the pandemic and having to shield for her own safety, she was still able to post new business margin figures of over £750,000 in 2020. The winner of this outstanding achievement award is Victoria Taylor.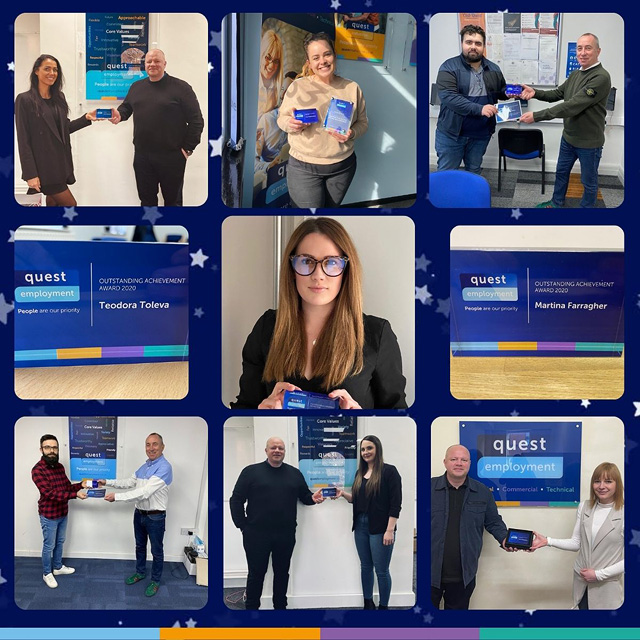 Branch of the Year Award
And for our most prestigious award we have a new branch on our roll of honour. In 2020 they broke every branch record, and I am pleased to announce that the winner of Branch of the Year for 2020 is the Corby Branch.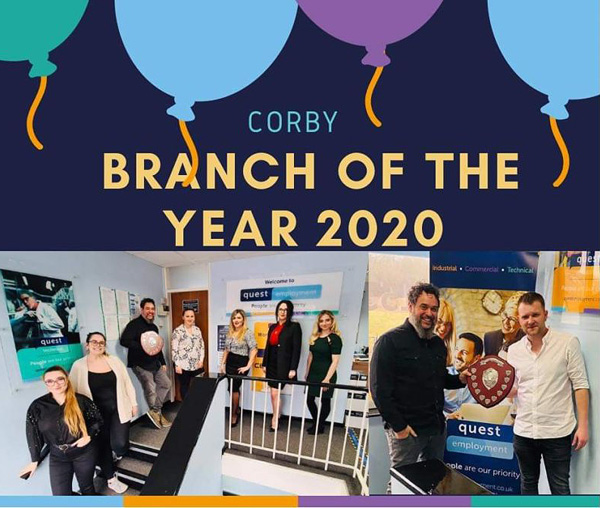 Branch Recognition Awards
All branches also received an award 'In recognition of your contribution to our record breaking 2020'.